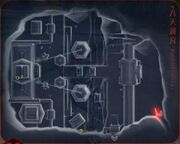 Hachitenmangu (八天満宮) is a new mission location introduced in Revenge of Zen.
While the map is rather ample, navigation is not very difficult, specially if using the Fukurou. The map is composed of a main gate (always guarded), two small pagodas in the center, a main bridge (always guarded), a pagoda at the northwest and the main temple at the north.
Any faction can occupy this location.
Assassination, thievery and duel targets are found in the main temple or the pagoda at the side of the temple. Also, this is one of the cited duel locations, specifically of the Kenobi.
This is one of the most story important maps in the game, as it is the location of the Ragoh Mirror and the final battle against Shu.
Missions
Edit
Mission Types Edit
Assassination
Obliteration
Thievery
Duel
Story Missions Edit
Ad blocker interference detected!
Wikia is a free-to-use site that makes money from advertising. We have a modified experience for viewers using ad blockers

Wikia is not accessible if you've made further modifications. Remove the custom ad blocker rule(s) and the page will load as expected.